Which search engines do you know about? You must know about Google, you may have reached here only through Google. But do you know that apart from Google, there are many other search engines? Today we are going to tell you about the same search engine. In this post you will get the list of top 10 major search engines and some information about them.
Along with the name of the search engines, you will also be given information about their market share. You will also get information about which search engines are used on the Internet, that is, how much market share they have.
Names of Major Search Engines – Top 10 Search Engines Name in Hindi
There are many search engines available on the Internet, but only a few of them are such that they are mostly used. Some of the list of the names of top 10 search engines are as follows:
Google / Google
Microsoft Bing / Microsoft Bing
Yahoo / Yahoo
Baidu / Baidu
Yandex / Yandex
Duck Duck Go
AOL / AOL
Ask
Ecosia / Ecosia
Internet Archive
World's Best Search Engine Names and Their Market Share
You got to know about the top 10 search engines, but which of these platforms get the most users? Which is the most used search? Its information is available through search engine market share. Below we have given a screenshot of StatCounter Global Stats, in which you can clearly see that Google's market share is 91.98%, which is the highest.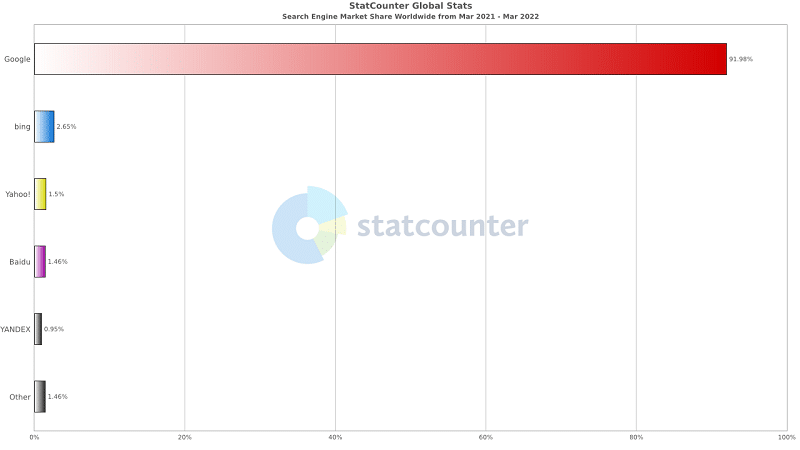 Top 10 Search Engine Name in Hindi
Let us now take some detail about these major search engines included in the search engine list:
google – google.com
Google is the most used search engine all over the world. Google is the most popular search engine covering more than 90% market share worldwide. Google has so many features that make it the best search engine in the market.
Its state-of-the-art algorithms, easy-to-use interface and personalized user experience make it better than other search engines. The platform is known for constantly updating its search engine results and features to provide the best experience to the users.
Microsoft Bing – bing.com
bing search engine The second most famous search engine on the Internet is created by Microsoft. Bing has always been trying to challenge Google, but still it has not been able to attract internet users. Microsoft Bing is a default search engine on all Windows computers, but despite this, it is far behind Google because people like Google more.
Yahoo – Yahoo.com
In the early days, Yahoo search engine used to be very popular but now it has come at number three in the list of search engines. Yahoo is not just a search engine, it is a Web portal Where you get features like email service, news, games, horoscope, shopping which are used by a lot of people. According to Alexa, Yahoo's web portal is at number 7 among the top websites in the world.
Baidu – Baidu.com
Baidu was founded in 2000 and is the most popular search engine in China. Its market share continues to grow, and according to Wikipedia, there are billions of searches per month on Baidu. It is currently ranked fourth in the Alexa ranking. Although Baidu is available for use anywhere in the world, it is still only available in Chinese.
Yandex – Yandex.com
Yandex is Russia's most famous search engine and comes first in the list of major search engines there. According to Wikipedia Yandex operates the largest search engine in Russia, which has about 65% market share in that country.
DuckDuckGo – duckduckgo.com
Another great search engine is DuckDuckGo. Unlike other search engines, DuckDuckGo attaches great importance to users' privacy and this is one of the biggest reasons people use it. It does not track or store the user's search history. Like Google, it lets you browse for everything from images, maps, and videos.
AOL – aol.com
AOL is one of the top ten search engines in the world with a market share of just 0.05 percent. In 2015, Verizon Entertainment acquired this search engine company, which still operates as a search engine.
AOL is an American web portal based in New York. It was one of the popular websites on the Internet in the mid-1990s. AOL has its own search engine, AOL search, which was redesigned and launched on January 20, 2005. You can use the AOL search engine to find web, image, multimedia, news and local search results.
Ask – Ask.com
The Ask Search Engine (Ask.com) was launched in 1995, formerly known as Ask Jeeves. According to his idea, he wanted to show the search results in question-and-answer format. This is a Q&A site where you can get answers to your questions, and there are tons of resources available for this.
The platform relies on pre-archived information and contributions from active users. For this reason the results may be less updated than the results found in Google, Bing and Yahoo. When the resources available with them do not have the answer, they try to find the answer using third party search engines like Google, Bing etc.
Ecosia – ecosia.org
Ecosia was created in Berlin, Germany by Christian Kroll in 2009. The main objective of creating Ecosia is to provide technology service and contribute towards helping the environment. This search engine donates a part of its profits to help the environment by planting trees.
Ecosia is a partner of Bing and its search results are received by Bing. Ecosia earns money to support tree planting plans by displaying ads in its search results. Every time an ad is clicked, Ecosia gets a small share. It is estimated that about 45 searches are required to plant a tree.
If you want to see the history of any website, then you archive.org can go on. of website domain By entering and searching, you will get to know how that website was visible in the old times.
it world Wide Web But by visiting the pages of the existing websites, he keeps taking his snapshot. Although you won't use it every day like Google, Yahoo or Bing, you can use this search site when you need to look up old records.
Some other information related to search engines:
conclusion
Search engines are very useful for everyone and Google is at the forefront of all search engines. There are many other services of Google like Gmail, google drive etc., which are also used by a large number of people. We hope that you will definitely like this post about search engine list. Which search engine do you like the most? Do let us know.